Friends Forever Missionary Fellowship began as Mark Muirhead Ministires, Inc. as papers were filed in 1994. Official documents were completed and the ministry was first affirmed as Mark Muirhead Ministries, Inc.in 1995.

On October 5, 2001 a 24/7 radio broadcast feed was launched: (AroundTheWorldRadio.org . Internet radio was new for online listening, and in the early days the channel rated (LIVE 365) in the top 10% of Christian Internet Music Channels in the USA.



ATWR Highlight: John Schlitt of Petra in the early morning hours of January 1, 2006 after the group completed their last Petra concert. We broadcast both concerts and were 'on air' for 12 1/2 hours, LIVE & DIRECT from Murphy, North Carolina!

Less than two years later an invitation came to Mark Muirhead while speaking at a evangelistic crusade in Charity, Guyana, South America. The owner of RCA-TV Channel 8 ask him for radio programs they could put on their TV station. After a few weeks the request came for 'moving pictures' and Friends Forever TV was born!

One hour TV programs were made and then brought in June 2004 to Global Vision Cable Channel 12 in Montego Bay, Jamaica airwaves!

Then on January 12, 2005 the launch of this ministries own channel began as Friends Forever TV, Cable Channel 93 on Cornwall Communications, Ltd., Montego Bay, Jamaica.



Since 2005, 19 different cable TV channels have been signed 'on air'.

In 2010 this ministry filed with the state of North Carolina to affirm the name of the ministry as the Friends Forever Missionary Fellowship.

On January 12, 2016 the first cable TV channel 93 (now 239), Montego Bay, Jamaica, celebrated it's 11th year of 24/7 broadcasting. Also on that day in Georgetown, Guyana, South America a #FFTV program called #GoodDay begin 'on air', CNS-TV Channel 6, daily at 5AM! Then on August 4, 2017 FFTV became 24/7 on the ACN Calbel Network Channel 5 in Georgetown, Guyana, South America!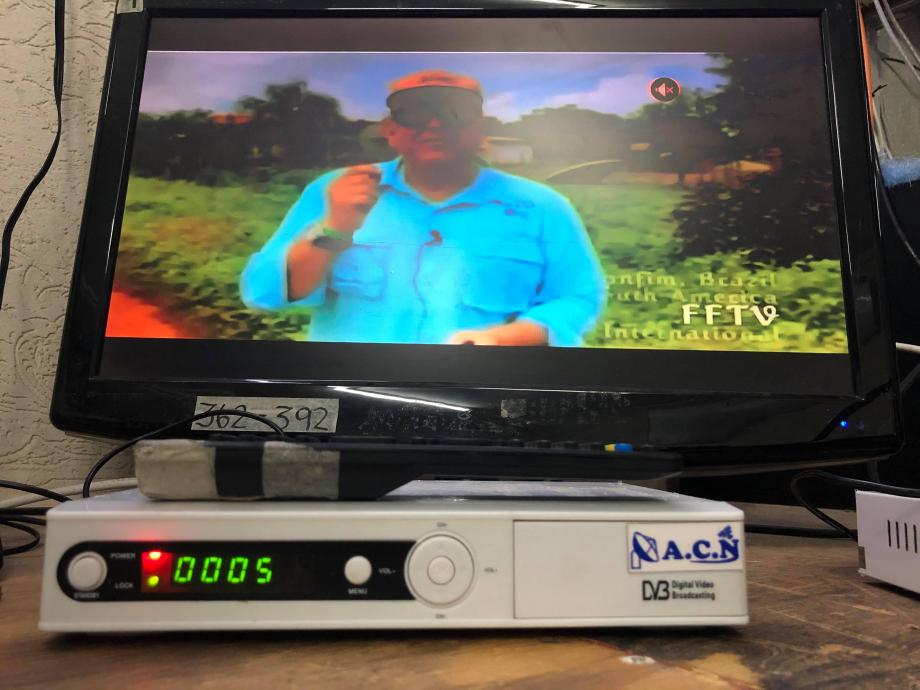 Special thanks over the years to our pioneer support staff, Alex Muirhead, Chad Miller, Joseph James Brown, Bear Rose, Fred Cicilioni, Brittani Sutton, Jason Batten, and great volunteer workers and interns who helped in the early days.

Currently this ministry is served by Mark & Laurie Muirhead. On site at the cable offices with great broadcast back up from Orlando Chin, Leon Biggs, Nyron Allen, Andreev Graham, Lenise Nicholson and the appreciated ANC Georgetown, Guyana Staff (Shonette Armstrong, Anthony Clarke, and more!)



Mark Muirhead


Founder/President




Mark Muirhead many years ago won an "AM Radio" at a Kids Crusade in Saline, ...

more

---

Tom Whidden


Vice-President / Posthumously




During 1957 Pastor Tom & Betty Whidden launched the First Assembly of God, Concord, ...

more

---

David Sutphin


Secretary




Pastor David Sutphin is one of the founding board of directors since Friends Forever began in ...

more

---

Laurie Muirhead


Treasurer & Trip Management




Laurie Larsen Muirhead is a Minneapolis, Minnesota native. She has served the Board of ...

more

---

Kenneth Johnson


Board Member




Bishop Kenneth Johnson has been on the Board of Directors since the start of this mission. He ...

more

---

Dr. Rick Ross


Board Member




Pastor Rick and Susan Ross has served churches in Renton, Washington and Concord, North ...

more

---

Charles H. Cookman


In Memoriam




Dr. Charles Hardy Cookman, 79, of Dunn died Monday morning, March 26, 2007, at Rex Hospital ...

more

---

Board of Reference


Honorary




Honorary Board of Reference Members; for Ministry Recommendation: Rev. Erlinda Wagstaffe, ...

more

---